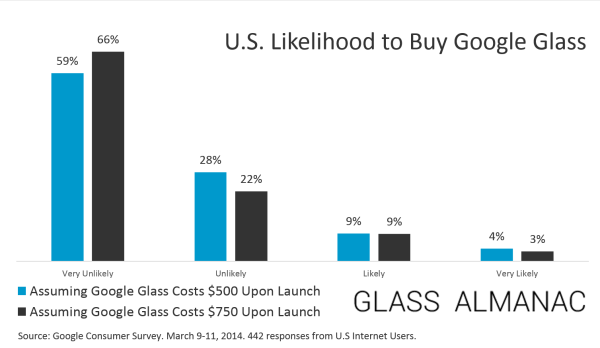 Let's face it, Google Glass is not going to be a success if Google asks for $1500 per unit. That's not what Google is planning anyway. But the adoption rate would be a lot higher if the device was offered for, let's say, $300. According to a study by Glass Almanac, 12% of Americans would get Google Glass if it cost $750.
Google clearly has its work cut out for it to make Glass more popular. The price is going to be a big factor. If I were Google, I would take an extremely aggressive approach to make Glass go mainstream. If there is any way for Google to subsidize and offer units to people for cheap, then it should try it. A $300 Google Glass would be a hit but can Google make a profit at that price point? That remains to be seen.
[via]
*Our articles may contain aff links. As an Amazon Associate we earn from qualifying purchases. Please read our disclaimer on how we fund this site.